Obstetrics & Midwifery - Midwifery
A Wonderful Option for Our Patients
Midwifery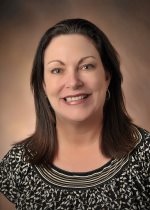 Certified Nurse Midwife
Carla D. Copas, CNM, ARNP
For more information on CNMs visit ACNM's website Birth Care Network
Carla's interview on "Just Ask Joyce" radio talkshow-June 2014
Ob/Gyn Associates of Southern Indiana and Floyd Memorial Hospital are excited to be offering the option of midwifery care to the women of Southern Indiana. Carla Layne, ARNP, CNM joined Ob/Gyn Associates of Southern Indiana in December of 2012. One of the first questions people ask is "Will you be doing birth's at home?" The answer to that is no. Although there are Nurse Midwives that deliver in the home - our Nurse-Midwife will bring midwifery to Southern Indiana in the birthing center at Floyd Memorial. It is important to provide state of the art care in a setting with physician back up available for consultations, emergencies and cesarean sections.
Carla was born in Frankfort, Kentucky and moved to South Florida when she was five years old. Having completed her education and certification as an Advance Practice Nurse and Midwife, she has chosen to return to her Kentucky roots and is excited to work with the physicians at Ob/Gyn Associates of Southern Indiana to bring midwifery services to Floyd Memorial Hospital.
Kentucky is rich with midwifery History. Mary Breckinridge introduced the US to the concept of a trained nurse-midwife, modeled after the British model of complete family health care. Mrs. Breckinridge founded the Frontier Nursing Service in 1925. She chose to bring her work to a very remote area of Eastern, KY in Leslie County. Frontier University continues to educate advanced practice nurses in midwifery and family practice.
Carla received her midwifery training at Frontier University in Hyden, Kentucky in 2002 and has been working as a Certified Nurse Midwife in Florida since 2004. Prior to that, she worked for six years as a Labor and Delivery nurse while waiting for the opportunity to practice midwifery. The physicians at Ob/Gyn Associates of Southern Indiana believe that Carla has the experience and skills to develop a strong program at Floyd Memorial hospital and look forward to working with her.
Nurse-Midwives provide independent management of women's health care, focusing particularly on pregnancy, childbirth, the postpartum period, care of the newborn, and the family planning and gynecologic needs of women. They partner with physicians for consultation, collaboration, and referral for care as defined in the standards of midwifery care by the ACNM. The American College of Nurse-Midwives (ACNM) is the national association representing certified nurse-midwives (CNM's) and certified midwives (CM's). Certified Nurse-Midwives are advanced practice registered nurses with a Master's Degree in nursing and advanced clinical training in midwifery.
Applying best evidence in the care of women and their infants is a cornerstone of midwifery practices. The nurse-midwifery profession in the U.S. has relied on evidenced based health care to guide and inform midwifery practices since its inception in the 1920's, and has succeeded largely because of the vast body of research and evidence which documents the high quality care provided by nurse-midwives.
Carla will care for obstetric and gynecologic patients and will work closely with the physicians at OB/GYN Associates Southern Indiana for any complications that arise. All of us are excited to be able to offer our patients the care of a Certified Nurse Midwife.
---